designers zeyu cai and sibei li have been announced as the winners of the people's notre dame design competition organized by goarchitect to spark debate regarding the redesign of the roof and spire of paris' damaged cathedral. open to entries from around the globe and voted for by the public, the initiative saw 226 proposals submitted from 56 different countries. the winning project, titled 'paris heartbeat', gives the gothic building a new mirrored roof and spire, announcing the intervention as a beacon of hope for the future of the city.
considering the long history of notre dame, which has survived in the french capital for over 800 years, zeyu cai and sibei li have designed paris heartbeat to 'mark a new era' for the cathedral. with this in mind, the winning proposal comprises of three main design features: a mirrored roof, a 'paris time capsule' and a 'city kaleidoscope'. in contrast to the gothic stone architecture, these elements provide a contemporary insertion, which are envisioned to connect to the parisian surroundings by the reflections they create.
all images courtesy of zeyu cai & sibei li
the new spire forms the pinnacle of the design. imagined as a completely mirrored surface, the spire also includes a magnetic levitating installation that will appear to float. designed to represent notions of memory, presence and hope, the floating component will move up and down in an effort to evoke the beating heart of the city, which has endured the 2019 fire.
inside, the design also includes an intricate kaleidoscope that is created from the shape of the spire and the glass that colors the light to create a beautiful pattern. paying homage to notre dame's historic rose window, this element is imagined as a focal point of the project. overall, by embracing a contemporary addition, paris heartbeat aims to bring the cathedral into the future while still reflecting the historic architecture of the city.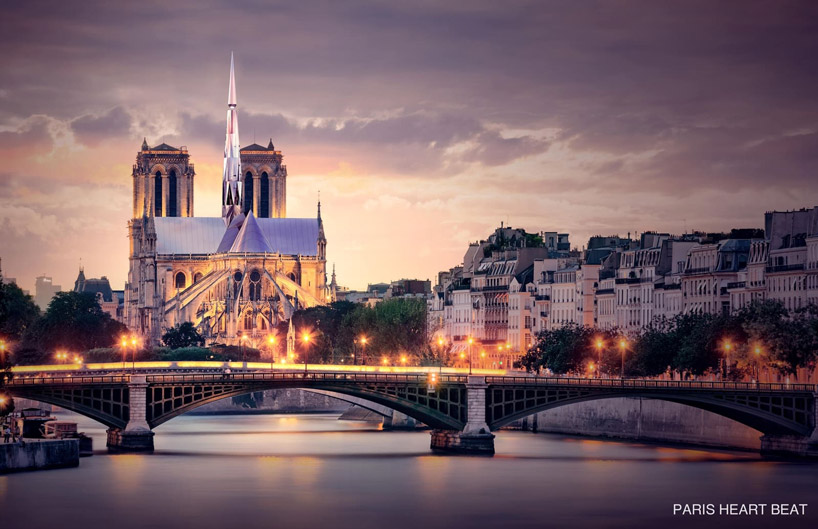 project info:
project name: 'paris heartbeat'
design: zeyu cai & sibei li
competition: the people's notre dame design competition
The post zeyu cai + sibei li win the peoples notre dame design competition appeared first on Architecture Admirers.